Dr. Darryl Tannenbaum Performs First ROSA Knee Robotic-Assisted Total Knee Replacement in Columbus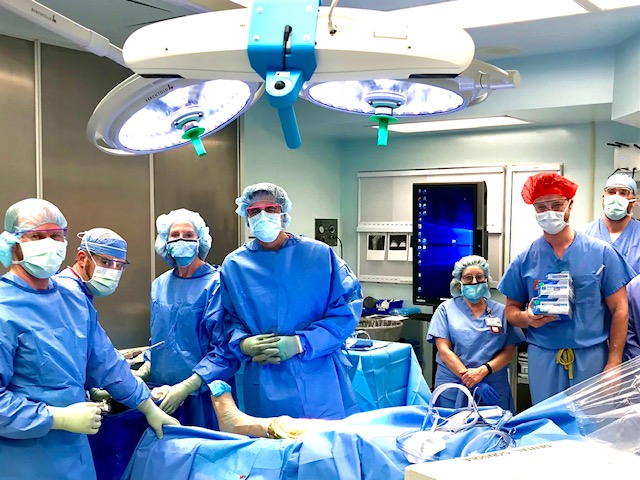 On January 26, board-certified joint replacement surgeon Dr. Darryl Tannenbaum of Southern Indiana Orthopedics performed the first ROSA Knee robotic-assisted total knee replacement in Columbus, Indiana. As a joint replacement expert, Dr. Tannenbaum specializes in using advanced, leading-edge techniques for hip and knee replacements. He is available to see patients at the practice's Columbus office, located at 940 N. Marr Road, Suite C, and at their Greensburg office, located at 930 E. Barachel Lane, Suite 500. Patients in need of joint care are encouraged to call 812-376-9353 to schedule an appointment.
As an industry-leading technology, ROSA Knee is a robotic-arm assisted surgical system designed to help orthopedic surgeons complete joint replacement surgeries with greater precision and flexibility. ROSA Knee helps surgeons position implants and spare any healthy bones, ligaments or other tissues from being removed. Dr. Tannenbaum is certified in providing expert total knee replacement care with the ROSA Knee technology.
Benefits of the ROSA Knee technology include:
Real-time data and navigation to help optimize the procedure.
Enhanced surgical control and accuracy.
Improved personalized planning with predefined operation boundaries.
"We are proud to offer this innovative new surgical option to eligible joint replacement patients," said Dr. Tannenbaum of Southern Indiana Orthopedics. "This is another example of our continued dedication to offering our patients the most advanced and state-of-the-art treatments and procedures."
To learn more or to schedule an appointment with Dr. Tannenbaum, call 812-376-9353.