Mako® Robotic Knee Replacement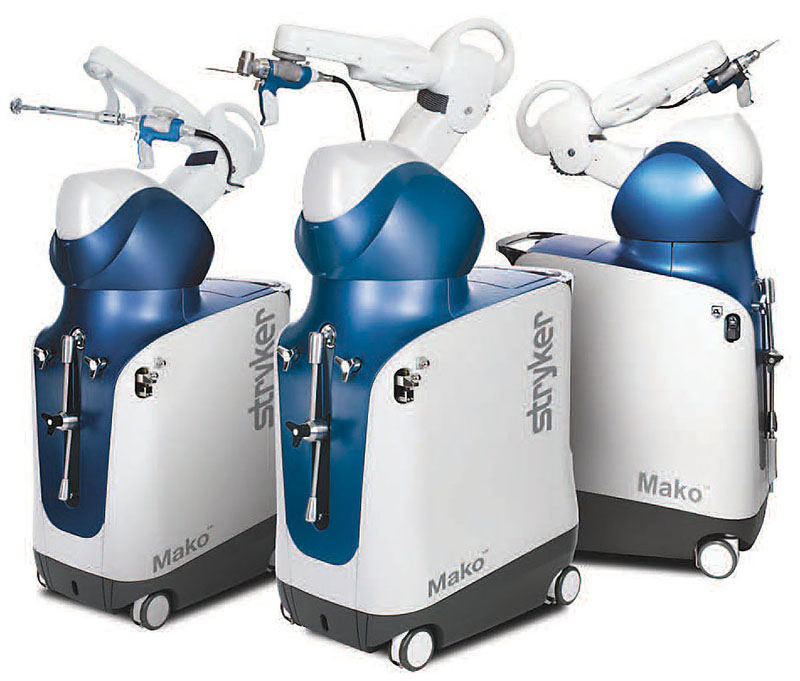 Dedicated to serving the orthopedic needs of Columbus, Greensburg, and the surrounding areas since 1976, Southern Indiana Orthopedics offers exceptional, specialized care from our specialty-trained Mako robotic knee replacement expert so you can get stronger.
For patients with chronic knee pain, Southern Indiana Orthopedics is dedicated to providing the latest, most effective treatments and techniques available. Robotically assisted procedures offer enhanced precision and accuracy as well as surgical efficiency. That's why we are proud to offer Mako Robotic-Arm Assisted total knee replacement as an advanced, minimally invasive treatment option for knee arthritis.
Using Mako Robotic-Arm Assisted Technology, fellowship-trained orthopedic surgeon Dr. Eric Tannenbaum is able to offer patients a personalized surgical experience for their total knee replacement procedures. Dr. Tannenbaum completed Columbus's first Mako robotic total knee replacement in 2022.
How Mako Robotic Knee Replacement Is Performed
The state-of-the-art Mako System assists your surgeon before and during surgery to optimize outcomes for your new knee. Beginning with a CT scan of your knee, your surgeon will use Mako's software to preplan your surgery based on a 3D model of your joint.
Your surgeon can input your personalized surgical plan in the Mako System to use during surgery. Your surgeon will also use the system and robotic assistance to accurately remove damaged tissues in predefined areas and place implants precisely as well as adjust in real time as needed.
Benefits of Mako Robotic Knee Replacement
The Mako robotic-arm and integrated planning and guidance technology helps your surgeon provide the highest level of surgical accuracy. Benefits of knee replacement using this system include:
Implants designed for more natural-feeling knee function and movement
Reduced postoperative pain and a faster recovery than traditional joint replacements
Customized surgical plans based on your unique knee anatomy for a longer-lasting knee replacement
Reduced risk of complications with planning, data, and minimized healthy tissue removal
Following your surgery, Dr. Tannenbaum will have a postoperative care and management plan designed for you. While each patient's recovery will vary, you will need to follow your surgeon's directions and guidance to ensure you have the safest and fastest rehabilitation and recovery.
Schedule your consultation with our Mako knee replacement provider and start your journey to healing with a treatment plan designed to help you overcome knee pain. Call (812) 376-9353 or request an appointment online to see our joint replacement specialist in Columbus or Greensburg.
The Strength of Experience at Southern Indiana Orthopedics
At Southern Indiana Orthopedics, we have the expertise and technology to provide exceptional orthopedic care dedicated to making you stronger. Our doctors and staff have extensive, specialized knowledge, training, and experience to provide the treatment you need to reach your goals. Our Mako specialist, Dr. Eric Tannenbaum, is fellowship-trained in advanced joint care and certified in Mako Robotic-Arm Assisted knee replacement. He is dedicated to serving patients' individual needs with compassion and exceptional care.
If you're considering joint replacement surgery or have chronic knee pain, see our Mako knee replacement specialist. Start getting back to your active lifestyle now by calling (812) 376-9353 to schedule an appointment. You can also request an appointment online. Our surgeon is available at our main location in Columbus and at our Greensburg outreach clinic.