ROSA® Knee Robotic Technology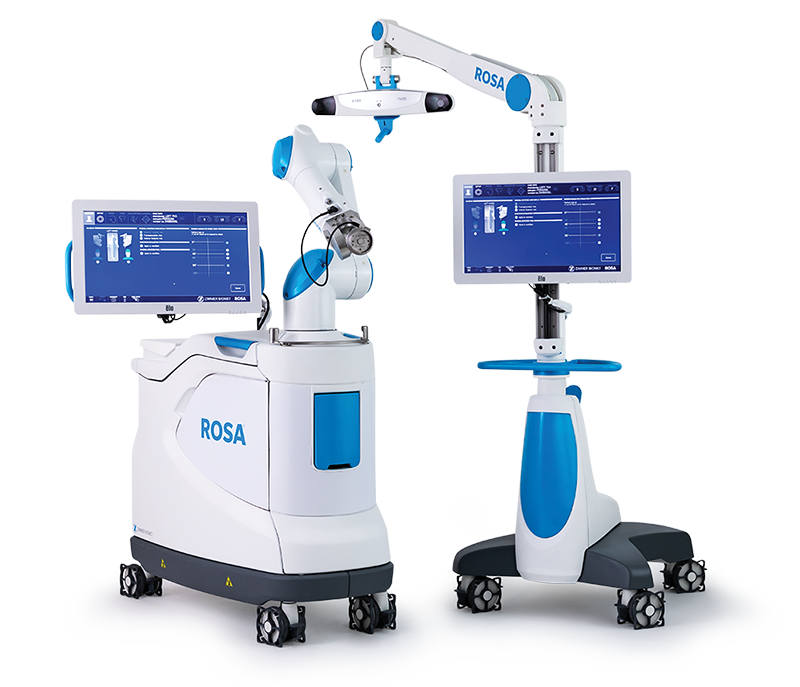 Dedicated to serving the orthopedic needs of Columbus, Greensburg, and the surrounding areas since 1976, Southern Indiana Orthopedics offers exceptional, specialized care from our specialty-trained ROSA Knee expert so you can get stronger.
At Southern Indiana Orthopedics, we are committed to offering the best possible care for our patients, including introducing the latest and most advanced technologies and techniques. Our goal is to provide our patients with experienced care that keeps them strong and moving.
With our ROSA Knee robotic technology, board-certified orthopedic surgeon Dr. Eric Tannenbaum is able to perform total knee replacements with enhanced precision and accuracy. On January 26, 2022, Dr. Darryl Tannenbaum carried out Columbus's first ROSA Knee robotic-assisted total knee replacement. Then on August 1, 2022, Dr. Eric Tannenbaum performed the first outpatient ROSA Knee robotic-assisted total knee replacement at Columbus Specialty Surgery Center.
When patients suffer from osteoarthritis or other joint degenerative conditions, they may be recommended to undergo joint replacement surgery. ROSA Knee technology assists joint replacement doctors in creating personalized surgical plans unique to the anatomy of each patient.
Advanced Robotic Joint Replacement Care in Columbus & Greensburg
Prior to the total knee replacement, your surgeon will conduct a traditional knee evaluation, including X-rays of your anatomy. ROSA Knee technology helps to create a three-dimensional (3D) model of your knee's anatomy, enabling our surgeon to specifically plan your replacement.
Using the preplanning technology, ROSA Knee assists our surgeon in performing the total knee replacement. The robot does not operate on its own but under the surgeon's control. Every decision is made by our surgeon the entire time.
When you are in the procedure, ROSA Knee uses a camera and optical trackers that are attached to your leg to provide a very detailed image of your knee's exact position. It also allows your surgeon to precisely place the implant with accurate, real-time data and navigation.
Following surgery, our surgeon will have a personalized recovery plan set in place for you. Each patient's recovery time varies, so follow your surgeon's direction on when to incorporate activities and to what extent you can engage with them.
Consult with our ROSA Knee provider to take your first step toward healing with your comprehensive, individualized treatment plan. Call (812) 376-9353 or request an appointment online to see our joint replacement specialists in Columbus or Greensburg.
The Strength of Experience at Southern Indiana Orthopedics
At Southern Indiana Orthopedics, we have the expertise and technology to provide exceptional orthopedic care dedicated to making you stronger. Our doctors and staff have extensive, specialized knowledge, training, and experience to provide the treatment you need to reach your goals. Dr. Eric Tannenbaum is our ROSA Knee specialist who is board-certified in orthopedic surgery. He is dedicated to serving patients' individual needs with compassion and exceptional care.
If you're considering joint replacement surgery or have joint discomfort, see our ROSA Knee specialist. Return to full mobility by calling (812) 376-9353 to schedule an appointment. You can also request an appointment online. Our surgeon is available at our main location in Columbus and our Greensburg outreach clinic.